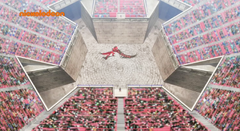 The Underground is a place where Monsuno battles take place and is the main location of the third episode, Underground. The facility is owned by Grandma Future and all of its battles are corresponded by her son, Mr. Black. All of the Underground's combatants use Eklipse Monsunos.
Ad blocker interference detected!
Wikia is a free-to-use site that makes money from advertising. We have a modified experience for viewers using ad blockers

Wikia is not accessible if you've made further modifications. Remove the custom ad blocker rule(s) and the page will load as expected.