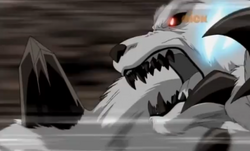 The Shadow Effect was an effect created by Dr. Klipse. It uses the power of Monsuno Essence to make Monsuno more powerful. They turn grey and black, and their Cores turn light grey. However, it comes at the cost of making the Monsuno blindly aggressive, even coming to attacking their Controllers.
Gallery
Ad blocker interference detected!
Wikia is a free-to-use site that makes money from advertising. We have a modified experience for viewers using ad blockers

Wikia is not accessible if you've made further modifications. Remove the custom ad blocker rule(s) and the page will load as expected.