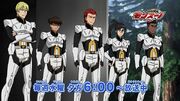 The S.T.O.R.M. Strike Squad is a group of young S.T.O.R.M. agents in Monsuno: Combat Chaos. It was formed by Commandant Marshall Charlemagne with the sole purpose of destroying Team Core-Tech. All of the squad's members were handpicked and underwent strenuous training in order to become extreme Monsuno Controllers.
Members
Ad blocker interference detected!
Wikia is a free-to-use site that makes money from advertising. We have a modified experience for viewers using ad blockers

Wikia is not accessible if you've made further modifications. Remove the custom ad blocker rule(s) and the page will load as expected.