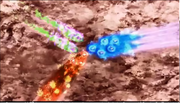 Monsuno Season 3 (Combat Chaos in Greece) is the third season of the Monsuno television series. It continues after the events of Monsuno: Combat Chaos, with the introduction of Core-Tech and S.T.O.R.M's merging, Eklipse and Forge Resistance with newly manufactured Dino Monsuno, and return of Hand of Destiny with their new non-shape shifting alien Monsunos. The three survived members of the Hand have been transformed to children- Petros, Terz and Dasha and now work with Digby Droog. There are also some returning characters from World Master, like Bookman and Grandma Future.
Description
Story
Episodes
Trivia
There are only 13 episodes of Season 3.
The Core-Tech and S.T.O.R.M Monsunos have Hyper Mode.
Ad blocker interference detected!
Wikia is a free-to-use site that makes money from advertising. We have a modified experience for viewers using ad blockers

Wikia is not accessible if you've made further modifications. Remove the custom ad blocker rule(s) and the page will load as expected.