This is a list of Monsuno DVDs.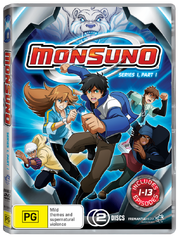 Monsuno - Season 1,Part 1
The series revolves around re-awakened Monster DNA, called Monsuno, that finds its way into the unsuspecting hands of adventure-seeking teenagers Chase, Jinja, and Bren. Accompanied by their Monsuno, Lock, Charger, and Quickforce, they are searching for Chase's father Jeredy Suno, the creator of the Monsuno. They are soon joined by Beyal, a monk from the Himalayas along with his Monsuno Glowblade. Beyal often speaks of five people that with the help of their Monsuno, could change the world. It just so happens that they are that five, along with Dax, a teenager who along with his Monsuno Airswitch, opposes the team and is disliked among most people. The team has yet to befriend him and persuade him to join their cause. They are also on the run from an agency called S.T.O.R.M. (Strategic Tactical Operatives for Recovery of Monsuno) who's plans are still in question.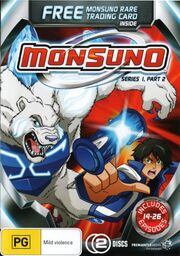 Monsuno - Season 1,Part 2
IT hurtled through space eons before man existed... IT burned through the planet s atmosphere and crashed into four corners of the world, bringing chaos, destruction and the extinction of the dinosaurs... And as suddenly as IT arrived... IT vanished. Now it s back! The rise of MONSUNO will spell the ultimate destruction of our planet - or launch the courageous adventure of mankind s newest hero, the unpredictable teenager, Chase Suno.Includding a rare card inside.
Monsuno - The Battle Begins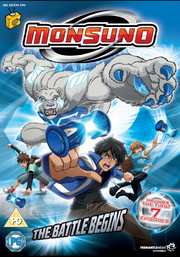 HE BATTLE BEGINS Series 1.1
They hurtled through space a million years before man ever existed...
They burned through our atmosphere and crashed into the four corners of the planet; brought the devastation that led to the extinction of the dinosaurs and as suddenly as they appeared... they vanished.
NOW THEY ARE BACK!
Monsuno will either spell the ultimate destruction of our planet... or launch the adventure of a lifetime for mankind's newest hero, the untrained and unpredictable, Monsuno Adept, twelve-year old Chase Suno.
Join Chase in the battle with the first 7 episodes of Monsuno
Monsuno - Destiny
Monsuno: Destiny is scheduled to be released January 08, 2013 by the Shout Factory studio.The Monsuno series is a  epic action-adventure series where kids discover command and battle creatures with tremendous destructive potential. Monsuno: Destiny When a race to harness the power of Monsuno ensues between a group of teenagers and evil forces focused on destroying the Earth the adolescents spring into action to defend our planet! Built around powerful action-driven animation dynamic characters and a deeply woven original story mythology.
Monsuno - Power
Monsuno: Combat Chaos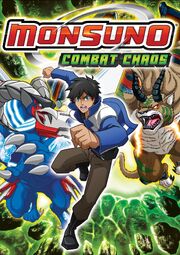 Monsuno: Combat Chaos: Series 2, Part 1
Videos
Ad blocker interference detected!
Wikia is a free-to-use site that makes money from advertising. We have a modified experience for viewers using ad blockers

Wikia is not accessible if you've made further modifications. Remove the custom ad blocker rule(s) and the page will load as expected.