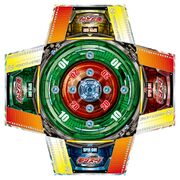 The DX Set is a Japanese-only product. It consists of a flat mat that acts like a target. The closer the Monsuno Core is spun to the center, the more points are gained. It comes with Spiderwolf, Lock, Blackbullet, Glowblade, Driftblade, and Snapclaw, along with their respective cards. A special version of the set comes with Crystal Lock, Crystal Backslash, Crystal Driftblade, and Crystal Moonfire.
Gallery
Game
Video
Ad blocker interference detected!
Wikia is a free-to-use site that makes money from advertising. We have a modified experience for viewers using ad blockers

Wikia is not accessible if you've made further modifications. Remove the custom ad blocker rule(s) and the page will load as expected.