Cores are devices used to spin Monsuno into battle in the anime and real life. At the moment there are three different Core types: Core-Tech, S.T.O.R.M., and Eklipse. In Monsuno: Combat Chaos, two new types have been introduced, the Forge Resistance and Five Arms.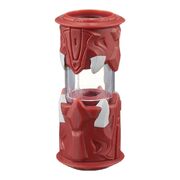 Technology
In the anime, Cores are devices made by Jeredy Suno to turn the Monsuno Essence into a living creature. It does this by combining elements and animal DNA allowing the Monsuno Essence to hyper-evolve into a living creature. Once the refined Monsuno Essence is loaded into a Core, you can spin the Core triggering the hyper-evolution. But once hyper-evolved Monsuno is out of its Core, it can only survive for about 8 minutes before it unspins.
Types of Cores
Colors: Blue and White
Colors: Red and Maroon
Colors: Black and Yellow
Colors: Various
Colors: Orange and Grey
Colors: Green
Colours: Red, Orange and Purple
Colours: Purple, Green, Grey and Black
Gallery
Game
Show
Ad blocker interference detected!
Wikia is a free-to-use site that makes money from advertising. We have a modified experience for viewers using ad blockers

Wikia is not accessible if you've made further modifications. Remove the custom ad blocker rule(s) and the page will load as expected.