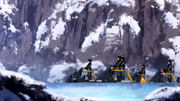 Cloud Hoppers
are pieces of technology used by
S.T.O.R.M.
that resemble snowmobiles.
Show
In Breakthrough, Cloud Hoppers were used by Commander Trey and several S.T.O.R.M. Soldiers during their pursuit of Team Core-Tech. Commandant Marshall Charlemagne later rode in on a Cloud Hopper to confront the team, with the same Cloud Hopper being destroyed when Jinja rammed into Charlemagne with one of the H-Trams.
Ad blocker interference detected!
Wikia is a free-to-use site that makes money from advertising. We have a modified experience for viewers using ad blockers

Wikia is not accessible if you've made further modifications. Remove the custom ad blocker rule(s) and the page will load as expected.